Sweet Fern Organics – How We Got Started
Before I explain how Jon and I (Kathy) started our market garden journey, I wanted to tell you about where we came from.
Back in 2014 Jon and I and our sons, Declan and Fionn, were living in Toronto. I was a Medical Laboratory Technologist at a hospital, and Jon was a Carpenter in the union. We lived in a 2 bedroom apartment in the west end. 
I was working full-time and Jon was working out of province for weeks, sometimes months, at a time. It was not an ideal situation, to say the least. 
I was getting burnt out, not enjoying my job anymore, and feeling like I was not really raising my kids, simply maintaining them. 
When my youngest at the time was potty trained by his babysitter, it was a wakeup call for me that I was missing out on important milestones in his life that I wanted to be a part of. I didn't have kids so someone else could raise them, I wanted to be there.
Jon also felt like he was missing out because he was. Working away all the time, he was missing important events in the kid's lives, like birthdays and school functions.
We needed a change. What we were doing was not working anymore.
Jon and I decided to move to Alberta (where he was working at the time) so he could be home more often, and I could stay home with our youngest, Fionn.
So that's exactly what we did. In 2014, we bought a house and moved to Red Deer, Alberta. 
As it turned out, our timing for a move across the country was not ideal, especially since we were depending on the oil industry for our sole source of income.
Don't get me wrong, I loved our time in Alberta, being home with the kids, meeting new people, and a change from living in Toronto. 
However, after a couple of years in Alberta, it was pretty apparent that the oil industry was on its way down and work was getting inconsistent for Jon. 
We ended up moving back to Ontario in 2019. By we, I mean the five of us, because we now had three kids, our youngest Keely was born in Alberta in 2017. 
Now, we had no idea what we were going to do once we got back to Ontario, work-wise, and location wise. I was still a stay at home mom and Jon is in the carpenters union in Toronto. 
We knew we did not want to live in Toronto again or in a subdivision like we were in Red Deer. We were looking for a more rural location. 
What we ended up doing was buying a trailer to park in my parent's yard. We lived in the trailer during the warm months and moved into the house during the winter. 
Again, not an ideal situation. It was meant to be temporary, never permanent. For a few months, it felt as if we were not making any progress. I was still at home with the kids and Jon was working, although not out of the province, he was still driving 3 hours to and from work each day so he still was not around as much as he, and I wanted to be. 
Then, in 2020, the global pandemic happened. It was definitely a weird time for us all. The silver lining was that Jon was off work for a couple of weeks in the spring and since he was dissatisfied with his current work and life situation, started researching homesteading, since that was our ultimate goal for the future. 
Jon and I had slightly different paths that lead us to want to be market farmers, so I interviewed my husband Jon to get his perspective on how we became market farmers, my side of the story is up after his.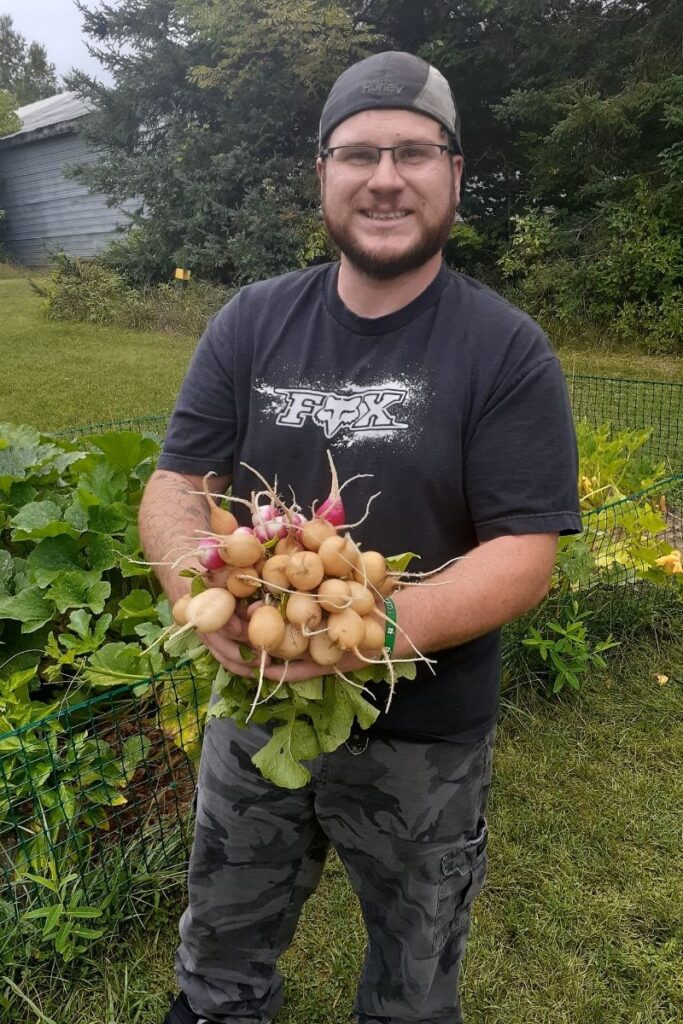 Jon
We were talking about living sustainably – tired of the status quo. I took to the almighty Youtube and started binge-watching homesteading videos. I started getting interested in growing and raising our own food to decrease our exposure to antibiotics, pesticides, monoculture, factory farms, GMOs, etc.
All the things that are a normal part of our traditional society.
Since homesteading was our end goal, I started researching how to make money from our homestead because we are still members of society who need to buy things from time to time.
From researching homesteading, I found market gardening, and on top of that, I was starting a backyard garden of my own and I really, really liked working in it and learning about different veggies and how they grow.
Well, now I had something specific to research on Youtube, market gardening. Welcome to the market gardening rabbit hole. Thanks, Youtube. I also started ordering books like J.M. Fortier's The Market Gardener, and reading books I already had at home coincidently enough that a friend had lent me last year. Authors like Eliot Coleman, Curtis Stone, and a lot of the market garden gurus.  
From there, I just knew market gardening was the answer we were looking for in our lives.
Kathy
I took a slightly different path to the market garden realm. I, like Jon, wanted to live a self-sufficient life. At least as self-sufficient as possible, with solar power for electricity, growing and eating our own food, and just an all-around simpler life. No more 'keeping up with the Joneses'. 
My idea of this was buying a chunk of land somewhere and hoping for the best. Not a lot of thought as to HOW we were going to actually earn money off of our land. 
I honestly felt a little lost in our life when we were living in a trailer on my parent's property, not really working towards anything, just maintaining the status quo.
I had started to notice Jon watching YouTube videos and at the same time books started being delivered about gardening and growing vegetables. 
At this time, Jon had not told me what the heck he was researching, so I kind of felt left out of whatever it was he was up to.
Then finally one day Jon told me that he thought he had a solution to our stagnancy problem. Starting a market garden. 
My first question was, "What is a market garden?" Jon explained the basics of market gardening to me, and to be honest, I was kind of leery of it.
I had some experience with backyard gardening, but by no means was I an expert or was even sure I wanted to be. 
By this time, our own garden was flourishing and I had seen how much Jon loved to garden and really took the time to research how to do it properly and really took pride in it. This made me feel more at ease because at least one of us has a green thumb and I think that's kind of  important when starting a market garden!
After sitting with this information that Jon wanted to start a market garden for a couple of days, I started to come around to the idea, and the more I thought about it, the more I liked it.
I thought it was the perfect solution to our homesteading income and the fact that we needed one.
Selling the vegetables produced off our land sounded like an amazing idea, one that the whole family could participate in! 
Working Together
This revelation could not have happened at a better time because it was amidst the COVID-19 pandemic, so both Jon and I were home and we just got to work figuring out how to make our market farm happen. 
Once we figured out that we wanted to be selling vegetables in the summer of 2021, we set goals and took steps to make them happen.  It is amazing that once you set your mind to something and take action, that things have a way of working out, as long as you work hard! 
The rest, as they say, is history. We knew that market gardening was our future, so we spent every spare minute we had planning, setting goals, and taking action to make our dream a reality. 
As I write this, in August of 2020, we have rented land to grow on that we can start preparing this fall, supplies to get us started, and Jon and I have weekly meetings to discuss our progress for the week and what needs to be done so we can be ready to grow and sell our veggies in 2021.
It is exciting, and a little scary, to start a market farm, but we have the enthusiasm and drive to succeed!
Thank you for joining us on this crazy journey!
We hope that you stick around and learn from our trial and error.
Stay Local,
Kathy, Jon and Family
To provide fresh, locally grown produce to members of our community. 
By using eco-friendly methods and organic growing techniques, we produce vegetables that help sustain our environment. 
Small-scale, local farming means providing fresh vegetables and produce to our community so they know where there food comes from and the farmers that grow them.
Our plan is to start a Community Supported Agriculture (CSA) program as well as to set up a farm stand on our property. When we have more details, we will update this page!
We also plan on selling our vegetables at the Cobourg Farmer's Market in the 2021 season. Please stay tuned for more details! Check out our Instagram for up to date information
Organic Produce
While we are not organic certified yet, we follow organic growing practices so that we can qualify for organic certification ASAP. Check out our delicious vegetables featured on our Instagram.
Healthy Cooking
Along with growing delicious organic vegetables, we wanted to make it easier for you to cook healthy as well. Check out our recipe section for great, healthy ideas that make dinner time a breeze! Just kidding, dinner time is never a breeze, at least in my experience, but hopefully, our recipes will help solve some of your dinner-time woes!
Home Farming
Our Farm Stand will be up and running in the 2021 season! Please stay tuned for further details.